About us
JoteS Ltd is the polish company, established in 1990, which offers business services. The company provides its services for firms, as well as has its own computer branch: offering software and equipment. The company currently employs 8 persons and is co-operating with a group of specialists during execution of developing projects in Małopolska Region.
Since 2001 the JoteS company has been the main distributor of drilling and communication equipment of the Canadian company CUBEX Ltd. The company's activity include also running of an Expert Office for cars and road accidents with preparation of analysis for insurance companies, courts and private entities. The JoteS company is a member of the Cracow Chamber of Commerce and Industry and National Association of Regional Development Agencies (NARDA POLAND).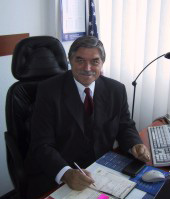 Jerzy Swaczyna - Jotes' President is the investment specialist in the field of foreign investors and export. He started his job career in 1968. Since he finished Cracow Technical University in Mechanical he has been occupinig a posion of the technical manager in Motozbyt Kraków, Kopex Prague (Czech Republic) - Main Mechanic, Polimex - Cekop (Main Dispacher). In years 1981-93 he worked as manager of Foreign Trade and Marketing Office in PSGSChem HYDROKOP. As the President of Asian Business and Trade Centre in years 1994-96, he supervised the investment of "Blue Skycraper" building construction (currently the headquarters office for BPH-PBK). In years 1993-97 as the Director of the Cracow Region Development Agency His Department supervised such investments like CARREFOUR, BP, IKEA, HIT, as well as companies' restructuring. In 1991 he graduated in Management and Business at the University in Ottawa and in 1996 from York University in Toronto. He is also the member of Management Club, Vice President of European Institute of Oncology Association and from 1998 till 2000 the Vice President of Interregional Consortium of Biorecycling Ltd. He is also the sworn expert for Automotive Mechanics and road communication.